Christmas Decorations!
It is a very popular pastime now to create your own Christmas wreaths and decorations, so to change things around a little for my Christmas notes from yours truly, this month we thought we might give you a little insight into how we make the decorations for the estate. Our wreaths are normally for dressing larger doorways and therefore we make these size appropriate, and using as much natural material from the estate as we possibly can.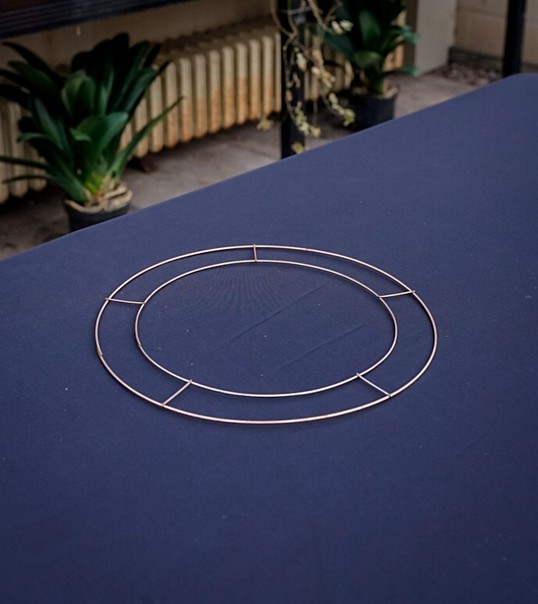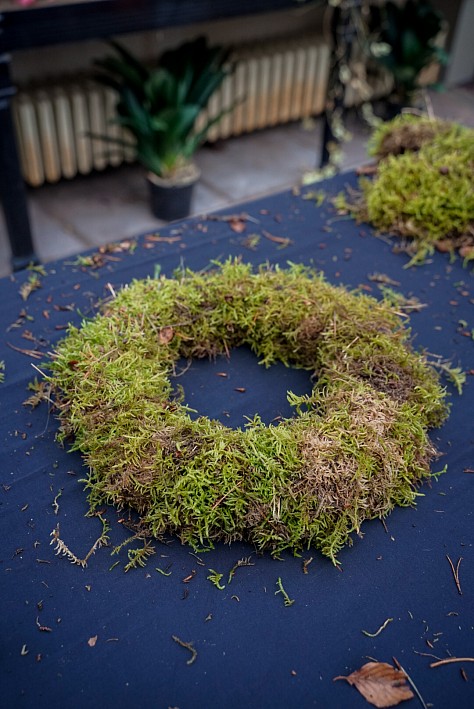 The Stages!
Firstly, we begin with a plain wired 10" wreath ring! Using natural fibre string, we tie on to the ring and create a secure tying loop to hang the wreath from.
Then, sphagnum moss, collected carefully from under the tree canopies is laid over the wreath ring and moulded into shape. We then loop our string through and around once to get a basic ring shape. After checking for gaps, which are filled, we then pass the string string through a second time, which fully secures the moss to the ring. Simply tie off and remove any excess moss.

Following this, choose a greenery backdrop. For us this is usually Chamaecyparis which is grown on the estate. Many forms of greenery can be used such as Fir, Spruce, Laurel, or Ivy, to name but a few.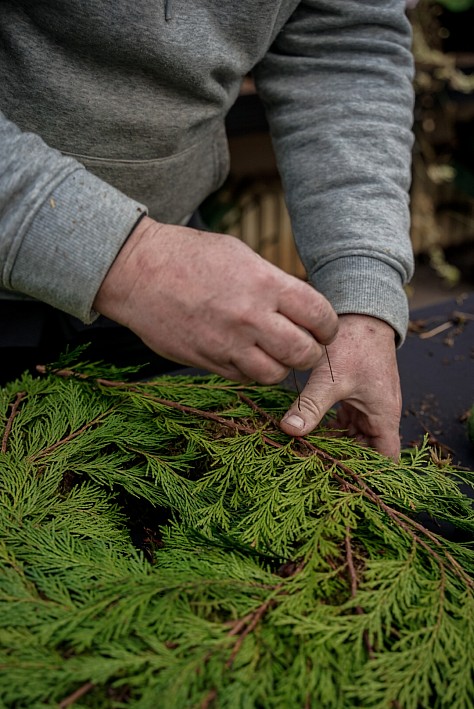 Once the base is created, and I like to form the shape of a basic star or snowflake myself with my chosen greenery, it's then time to feed in your Holly.
  
We use the method of cutting sprigs of Holly, about 8 to 10 inches long, collect 3 pieces together and wrap and pinch with a piece of florist wire. Do this multiple times until you have a decent amount to begin to build.

Working from the outside, push the long piece of wire through the moss ring, firmly pushing the sprig into the moss ring and laying as flat as it will allow, whilst collecting the wire underneath and bending and pushing into the back of the moss ring. Repeat this process until you have created the 'nest', or outer ring.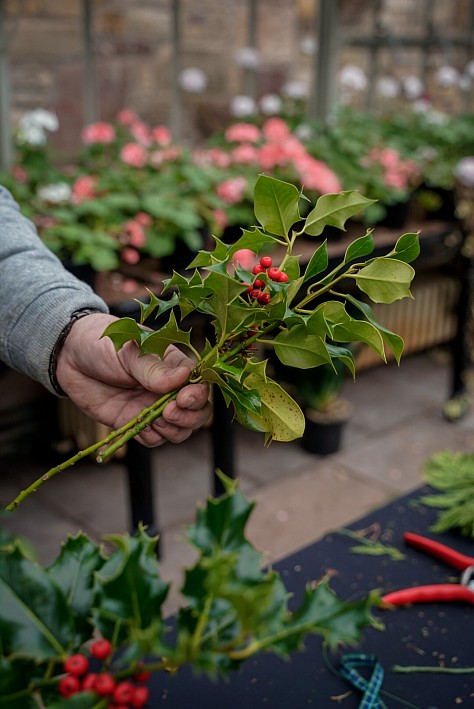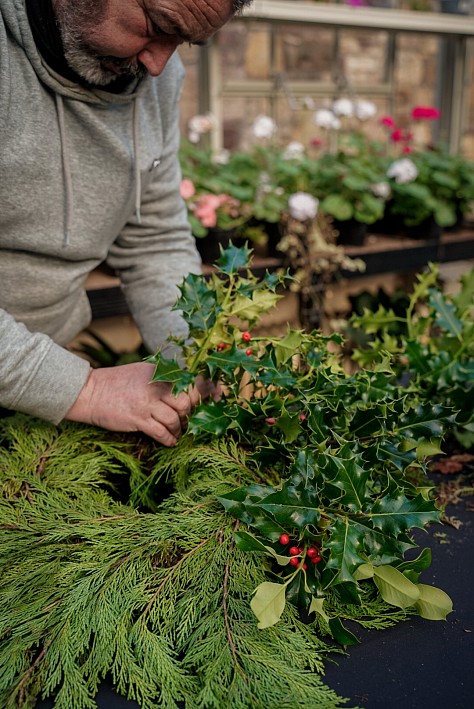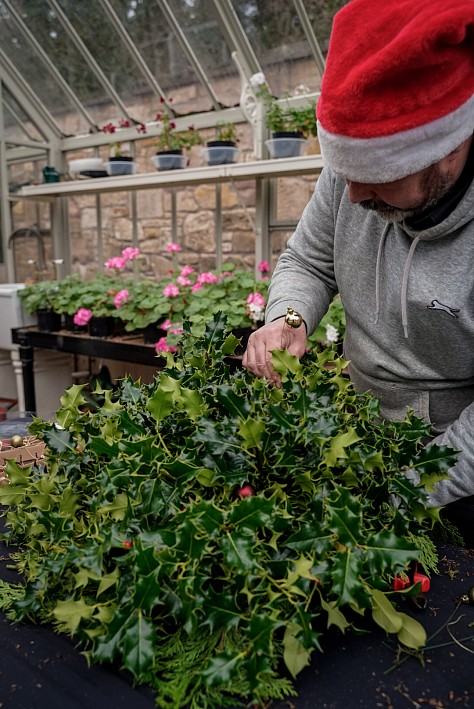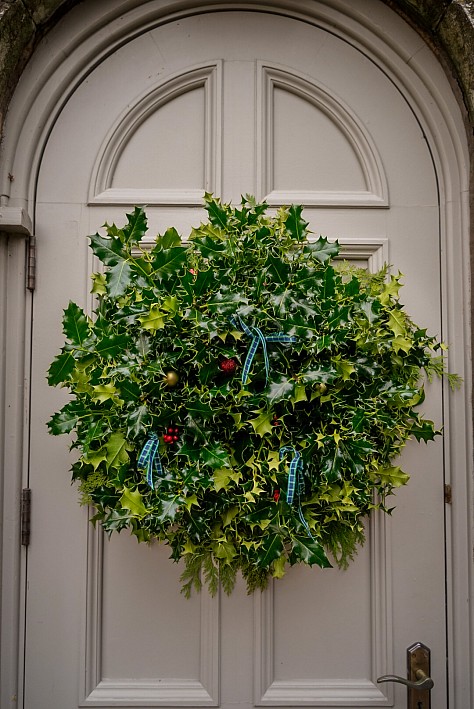 Then, simply repeat this process with an internal ring, however this time allow the holly to face upwards as you work around. This will quickly fill in the centre ring and you will see when there are enough sprigs in place to make this fulsome. Once happy with this, it is time to decorate. A huge array of things can be used to dress your wreath. I tend to keep my own wreaths simple, but you might use, berries, baubles, cones, ribbons, dried fruits, and even little packs of lights with battery packs which are now readily available from supermarkets and garden centres. The choice would indeed be yours. I simply used some small baubles and some ribbons to compliment the berries within. After which, you simply hang and enjoy!

Table decorations!
Alternatively, why not make yourself a little table decoration. Really simple and quick!
Place in your greenery as the backdrop and create your desired shape. Simply spike the holly into the block, placing any candles and candle holders in place if you wish to safely light, before dressing the holly around to hide the block itself. Once again, simply add your decorations of choice. As an alternative to candles, there are multiple sets of lights, lanterns and such like which operate really well, and the kids just love them and still readily available.
From the entire team on the Kinross House Estate, may we wish all of you and your families the warmest and most wonderful of Christmas celebrations!
Happy Christmas Everyone!
- Kenny